Dallas Door Refinishing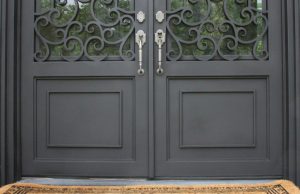 An iron door is built to be tough. It is one of the most durable, secure, and aesthetically pleasing options on the market today. However, over time, even the best iron door can fade. Here in Texas, with the beating sun looming overhead, your iron door has its work cut out for it. Thankfully, you can call Iron Door Experts. We provide door refinishing in Dallas, TX, all year long!
Our Door Refinishing Process
Our door refinishing process was designed to be straightforward and effective. We go the extra mile to ensure your door looks like new, despite the weather damage or age, in no time at all. In addition, we also offer weather stripping replacement, sash repairs, and glass replacement.
Even better, we can refinish your door in a single day. We remove the door, seal the opening to ensure no heat or cooling loss and to prevent bugs, then refinish the door. You get to choose the finish. In just one afternoon, we'll have your iron door back in place and looking better than ever!
Why Choose Us
Iron Door Experts started with a singular goal: to ensure homeowners like yourself had fantastic options for their front door. Everyone is tired of the same old wood and steel. It's time for something new, something elegant and attractive. Our custom designed iron doors will make your home the envy of the whole neighborhood!
For custom iron doors and refinishing services in Dallas, TX, look no further than Iron Door Experts. Contact us today!