Custom Designed Iron Doors Dallas, TX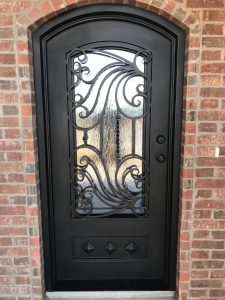 Buying a new door can be a real hassle. A trip to the local home improvement store, then a trip back when the door is ultimately the incorrect size. It's just a hassle. Here at Iron Door Experts, we hope to eliminate such hassles altogether. We custom design each door we install. We offer the best custom designed doors in Dallas, TX.
Bring Beauty and Durability to Your Home with Custom Wood Doors
A door is more than just an entrance. It's the first line of defense for your home. But it also adds aesthetic beauty to your property. You want a wood door that matches the architecture of your home and is strong and durable against the weather and intruders.
You want Iron Door Experts. We'll build you a door specifically suited to your needs, lifestyle, and home décor!
Benefits of Iron Doors
Besides the beautiful aesthetic of an iron door, there are many benefits that we're sure you'll love. These benefits include:
Increased Home Values – An iron entry door adds value to your property, should you ever wish to sell in the future. It makes a lasting impression on any buyer.
Improved Security – Have you ever tried knocking down an iron door? It's near impossible without a battering ram. Our iron doors are built to last.
Aesthetic – How often do you remember the front door of a home you visit? Now, imagine that the door was made intricately beautiful iron. You'll remember that door for many years to come!
Why We are the Best in The Industry
Homeowners trust in Iron Door Experts. Here's why:
We measure the opening to your home, discuss styles, and provide CAD drawings to ensure you're totally satisfied with your new iron door.
We provide professional design and installation.
Along with installation, we also replace the interior trim, paint, and ensure the entry meets your standards.
Iron Door Experts delivers a true turnkey experience!
For top-rated, custom iron doors in Dallas, TX, contact Iron Door Experts!